French style furniture
Regency style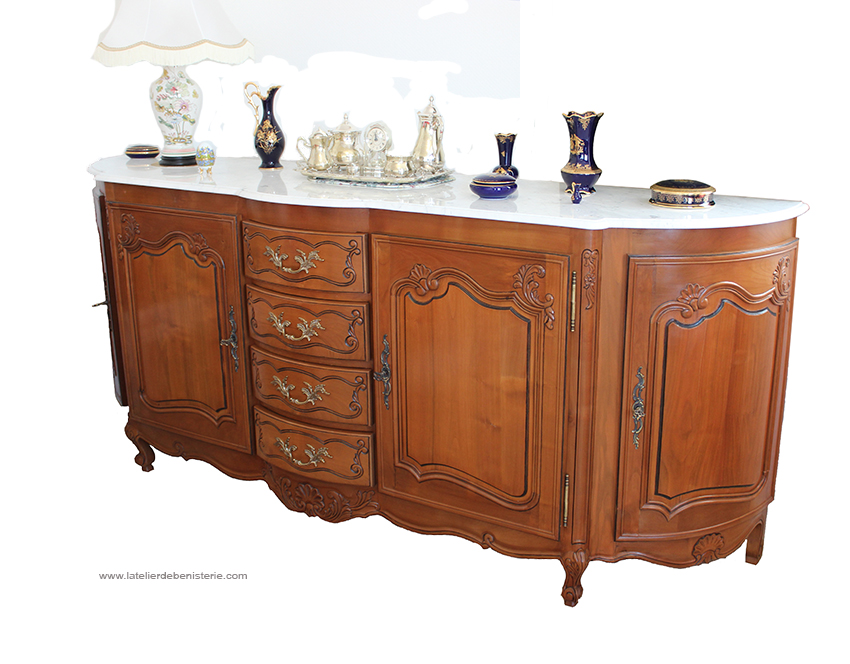 Regency style sideboard in cherry wood,
with a top in white Carrara marble,
4 doors of which 2 arched.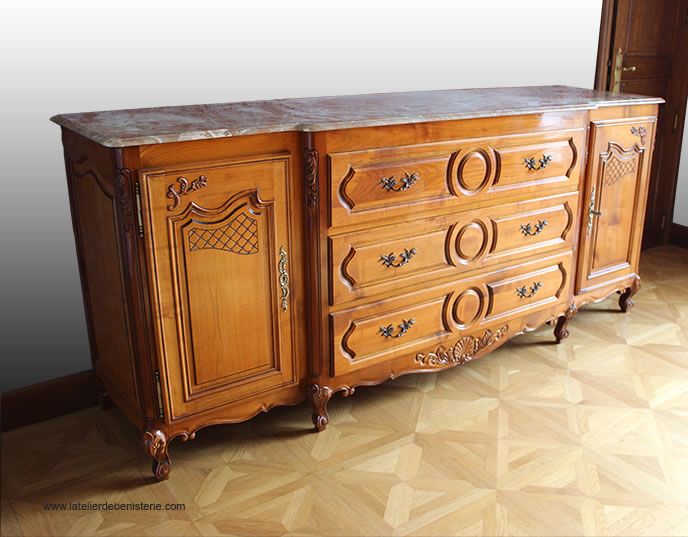 Dresser with 3 drawers and 2 doors,
typical shell carved on the middle of bottom cross-bar,
and a veined marble top.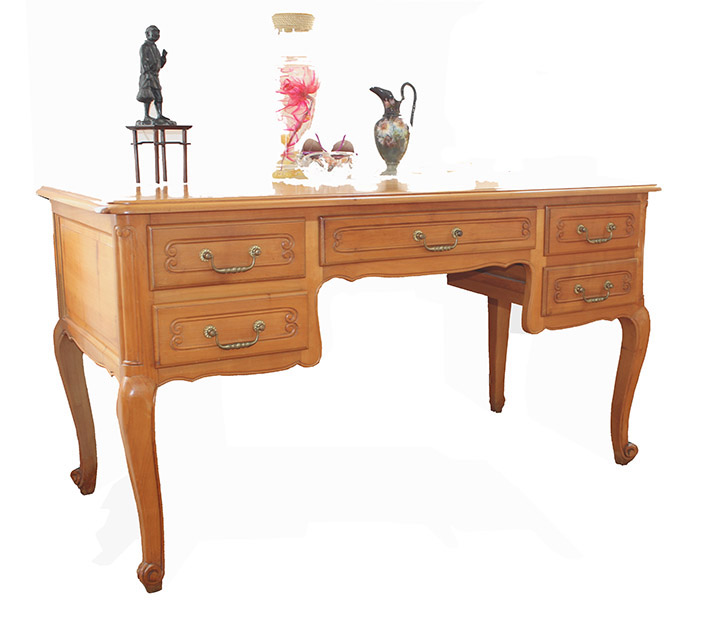 Regency-style desk with 5 drawers.
The Regency style, which began in 1715 and ended in 1793, is characterized by comfort, fancy, and a lightness of the decors. The ornamentation provides less rigid forms, for example, the stylized shell. The style has retained a certain symmetry from the earlier style, but rounded lines appeared.
The expert on Regence style in the cabinetmaking field was Charles Cressent, a native of Amiens. He was a student of Charles Boulle. He worked on bronze ornamentations.
Louis XV style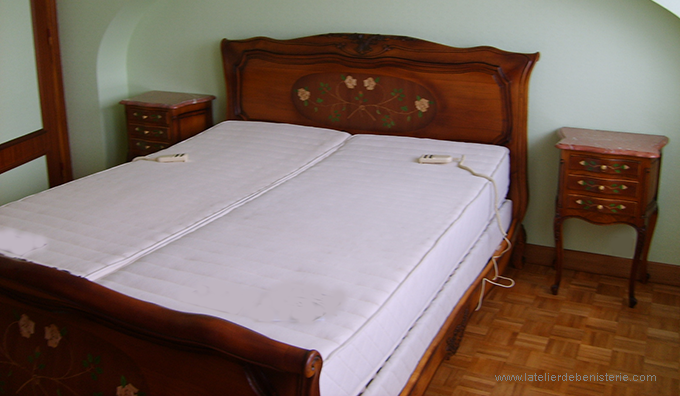 Bedroom in marquetry, Louis XV style.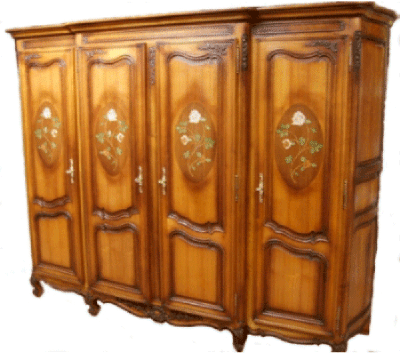 Louis XV style marquetry wardrobe.
A classical spirit with refined sculptures, a lightness of movement permeates the style Louis 15. This style started around 1730 and ended around 1760. The tapestries of the Beauvais manufacture are employed to embellish the sofas and armchairs.
The King's desk at Versailles castle is the iconic piece of this Louis 15 style. Among the renowned cabinet makers of this time, we have Oeben, Bernard Van Riesen Burger, Riesner, and the Hache family.
Louis XVI style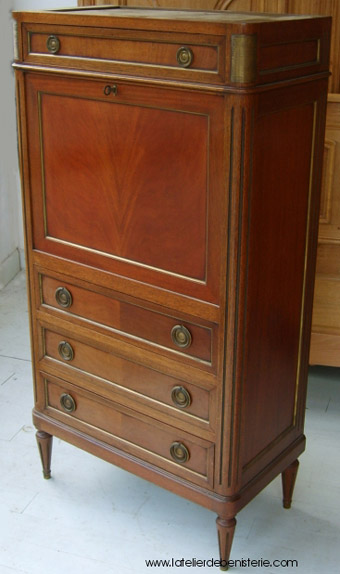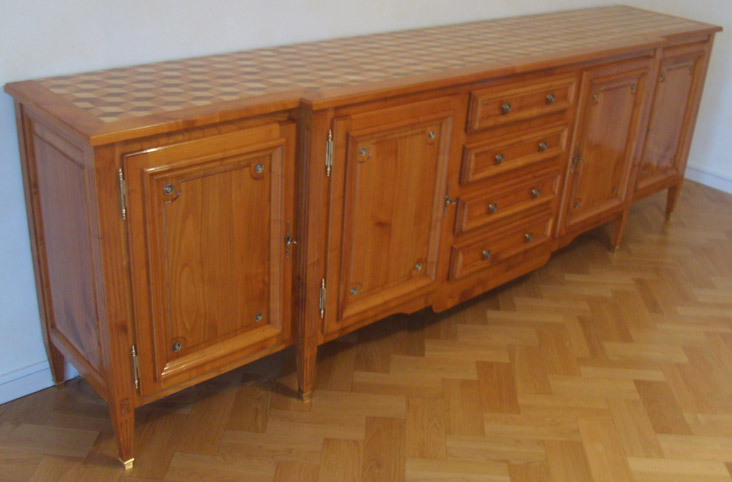 Louis XVI style marquetry sideboard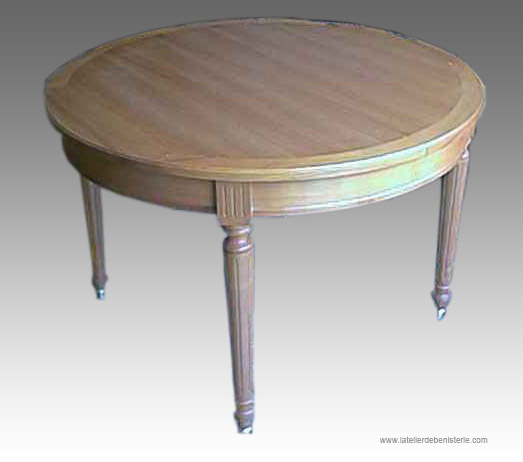 Louis 16 style table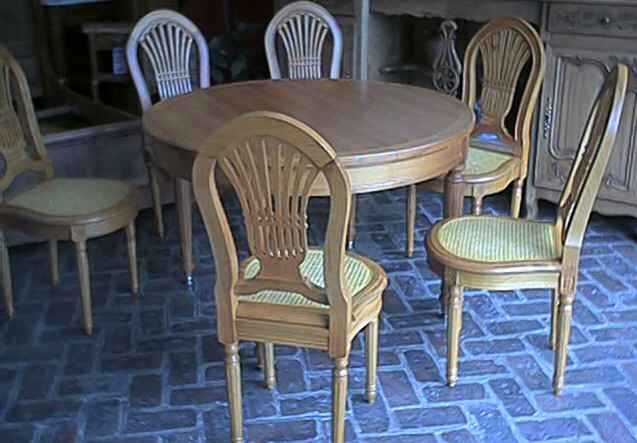 Classic lines, more straight, more refined had appeared with the Louis 16 style, lasting from 1770 to 1795. The cabinetmaker Riesner developed at this time furniture with refined marquetry adorned with elaborate carvings. Carlin, Leleu, and Jacob are among the cabinetmakers who marked this period.
Directoire style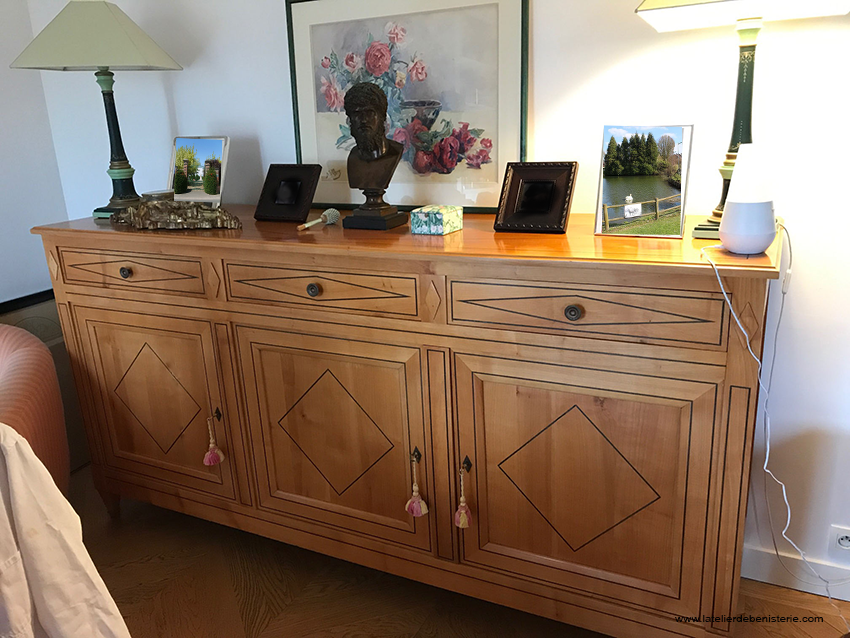 Three-door sideboard, with 3 drawers, and removable shelves.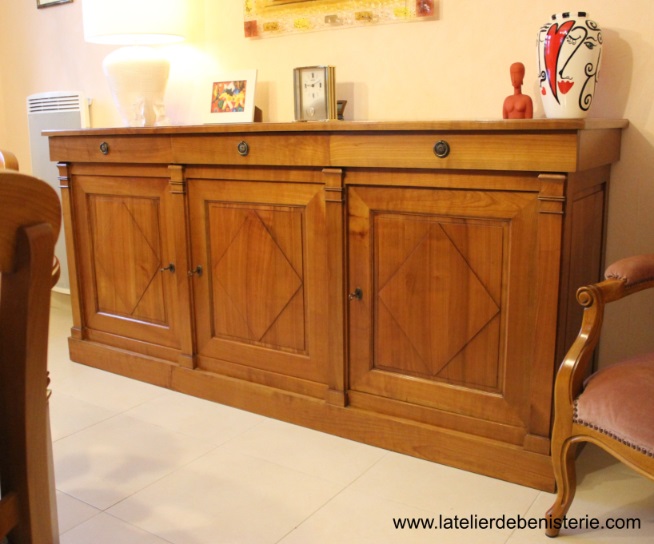 Three-door French directoire sideboard.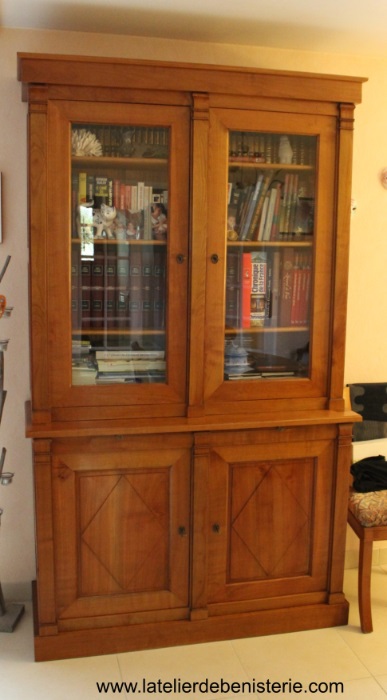 Four-door bookcase including 2 glazed.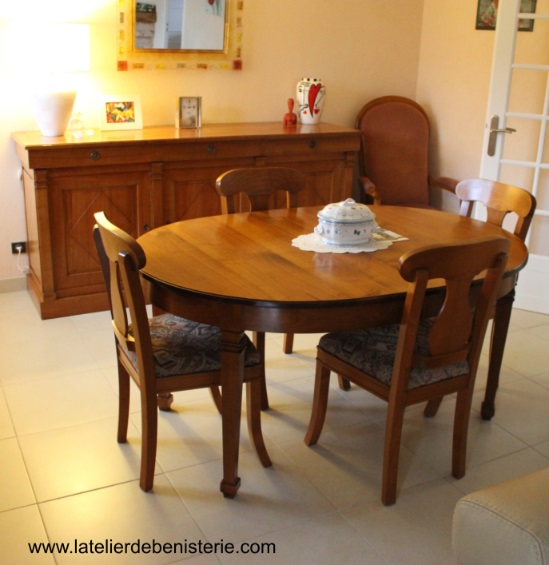 Directoire style dining Room
The Directoire style features sober lines and a specific diamond pattern. It developed a few years after the revolution, between the years 1795 to 1804, and covered about 10 years.
Louis Philippe style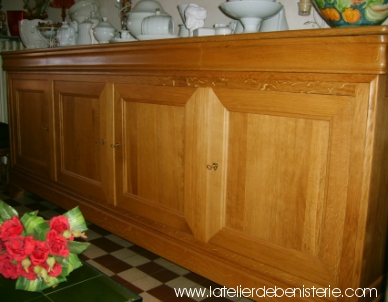 Louis Philippe style sideboard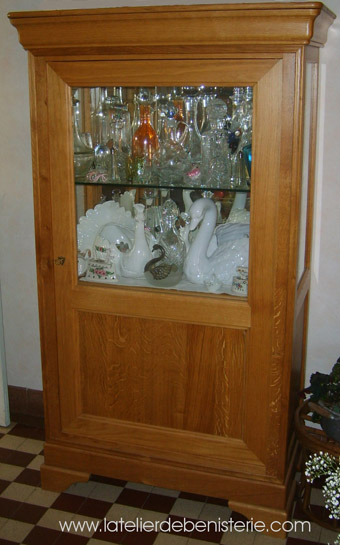 Showcase in Louis XVI style with an ogee upper cornice.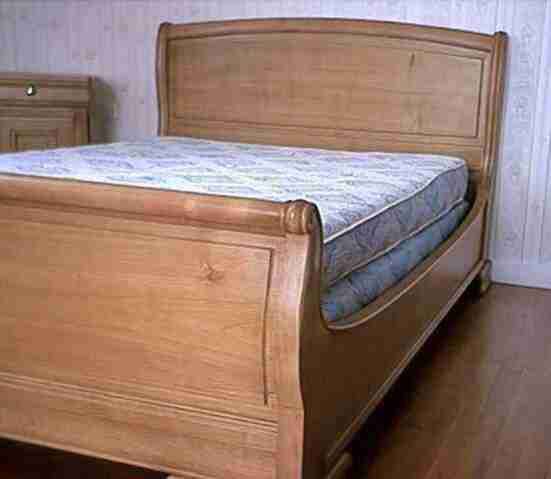 The Louis Philippe style bears the name of King Louis Philippe, whose reign lasted from 1830 to 1840. The shape curved describes this sober style, always trendy.
Art nouveau style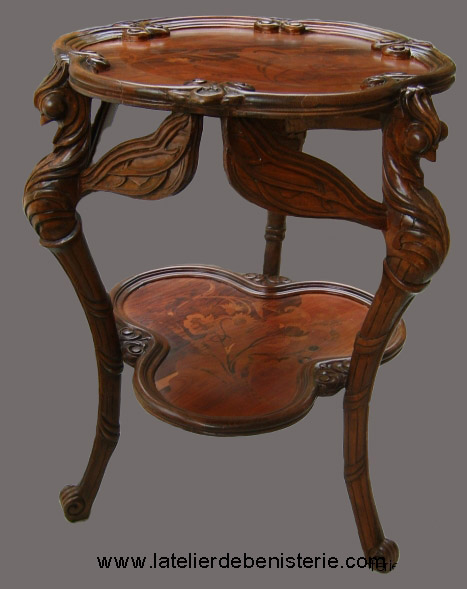 Copy of Emile Galle's table, known under the name "dragonflies".
This three-legged table is a copy of Emile Galle's model, which has 2 marquetry trays, 3 legs in the shape of dragonflies, bulging eyes, and long wings. The original piece is at the Royal Museum of Fine Arts in Belgium.
Nature, floral and vegetal patterns are the sources of inspiration. Art Nouveau is a style that grew from the 1880s until the 1910s. There was a need for renewal at the dawn of a new century.
Many architects, master glassmakers, cabinetmakers, and ceramists had a keen interest in the modern style, which spread throughout Europe. Galle, Guimard, Lalique, Mackintosh, Majorelle, and Tiffany are personalities names related to the Art Nouveau style. Several pieces are on display at the Musée d'Orsay, the Musée de l'Ecole de Nancy and the Beaux-Arts in Brussels.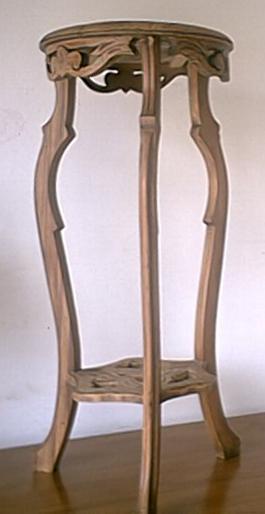 Art nouveau-style tripod.