Home > Wood workers in Picardy
Craft company
Enterprise
Craft company created by M. John-Luc Godard. The wood working is a family tradition.
He holds the title of Master Craftsman Cabinetmaker. He designs bespoke furniture and manufactures:
- Comtemporary and designer furniture,
- Marquetry furniture and portraits,
- French furniture style,
- The Picardy traditional furniture
- Carpentry and arrangement
- Restoration and makeover.
Hand-made on request: To define your project, you can make a diagram, a picture of the desired model and sizes required.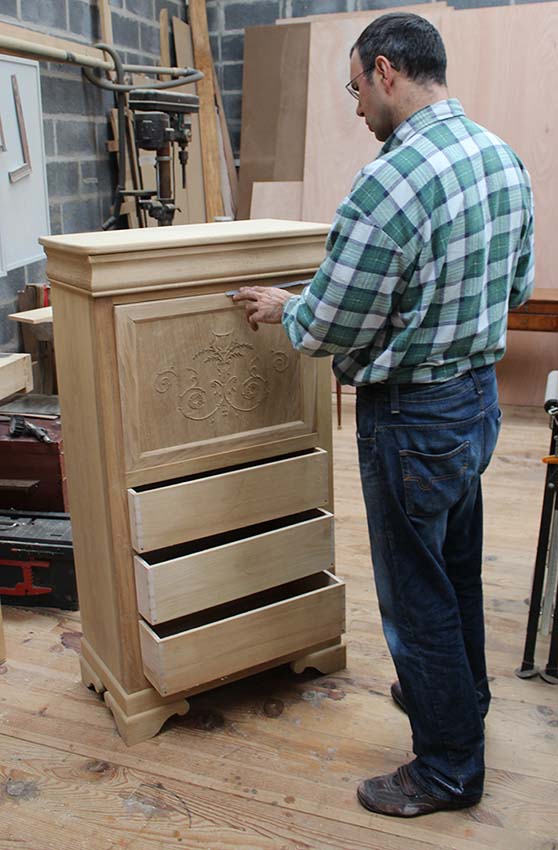 Historic





1880: Joseph GODARD - joiner
He was the first of the family to be interested in woodworking. He began by instal a workbench near the bread oven, in the street "d'en Bas". There were many workshops in the village and Picardy furniture was booming. He learned his trade with the locals woodworkers
1920: Georges GODARD - cabinetmaker
He will take over and will do prosper the workshop. He will employ up to seven people and will plan many developments for the business. This regional furnishing, will sold all over France. He was known for his "strok of a pen" for drawing.
1950: Louis GODARD - cabinetmaker woodcarver
He was specialized in Picard furniture and started making few inlaid furniture. Customers were mainly French but some Europeans bought also
1985: Jean-luc GODARD - cabinetmaker woodcarver inlayer
Heir to a valuable know-how he has participated in several exhibitions in Amiens, Conty, Chartres, Reviers, Paris and the United Kingdom. To complete his knowledge, he took courses at the School of Fine Arts.
Jean-luc works with designers to produce contemporary pieces infusing Anglo Saxon culture into his work. Following a successful UK exhibition, he worked for 2 years with cabinetmakers in the Uk.
Ancestral techniques acquired over time, and his training in new technologies allows him to manufacture quality pieces of furniture. Jean-Luc's ongoing exposure to different regional styles continues to add new facets to his creativity.