Home > Woodcarving > Round sculpture
Sculpture in the round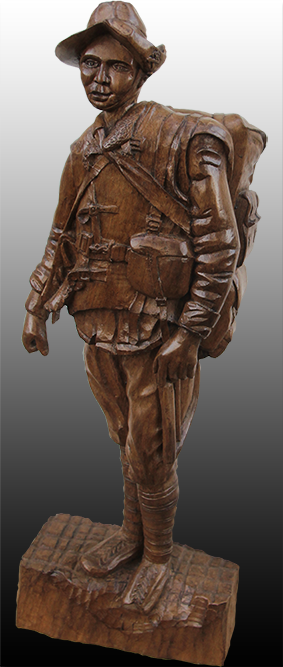 Sculpture depicting Sergeant James HOLLAND, with the pack
This sculpture is carved in walnut to show a First World War soldier of the Australian army: Sergeant James Holland. Jim served as a machine gunner in the 7th Machine Gun Company. He arrived in Vignacourt during the harsh winter of 1916, which is why he wore a sheepskin vest for extra warmth.
His equipment was interesting to carve, as you can see all the elements necessary for the bivouac on his back.  The Machine Gun Company insignia had intricately crafted on his hat. The unit color patch is also carefully carved on his left sleeve. Attention to detail demanded that even muddy cobblestones be reproduced carefully. The story is on the website: www.vignacourt.free.fr
The famous Bread boy
Abel THEOT is an emblematic figure in Louis Thuillier 's photographic collection. He was one of the first to be identified as a citizen. His father and his brothers had gone to war, and he also had to support his family despite his young age.
The sculpture in walnut was faithfully reproduced with its apron and folds, down to its wicker basket. It was awarded at the Saint Joseph's Catholic Primary School Childers QLD in November 2019 to continue the Franco-Australian exchanges.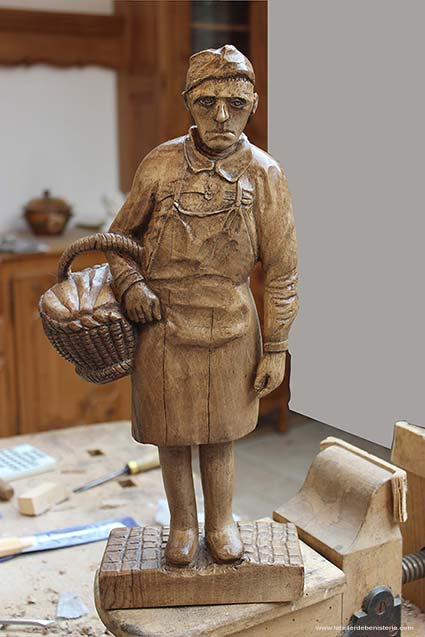 Bread Boy sculpture with a wicker basket.