Home > Marquetry furniture
Marquetry furniture
Chest of drawers in cherry wood of transition style, with 3 drawers,
marquetry with a bouquet in front,
and a mosaic of cubes at the bottom and sides,
marble top, bronze ornamentation.
This piece of furniture represents 150 hours of work.
Marquetry - Sideboard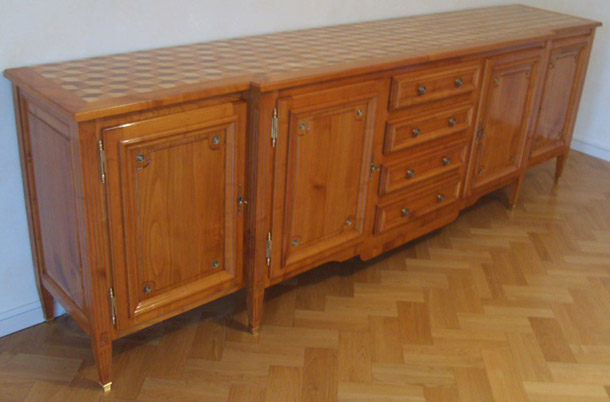 Louis XVI style sideboard in cherry wood
opening on 4 drawers in the center and 2 doors on each side.
The marquetry top is a checkerboard pattern,
and the ornamentation is in bronze and brass.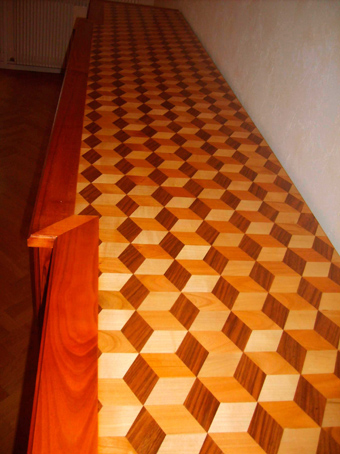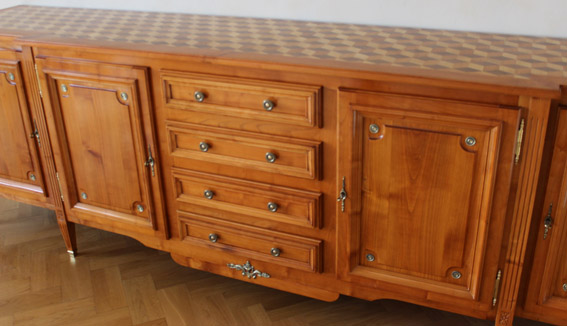 Marquetry - Secretary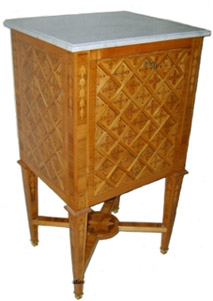 Secretary, Louis XVI style,
checkerboard marquetry cherry wood,
marble top, brass foot,
this achievement represents 400 hours of work.
Bedside table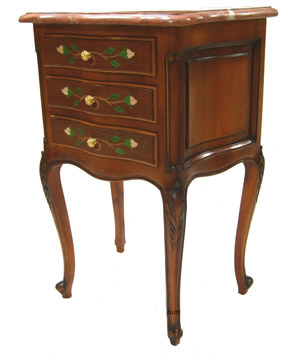 A cherry wood bedside table with 3 drawers,
each side of which is embellished with 2 roses,
the top is in brown veined marble,
the sides are adorned with moldings,
the volute feet are slightly curved and sculpted,
the buttons are brass.
Marquetry table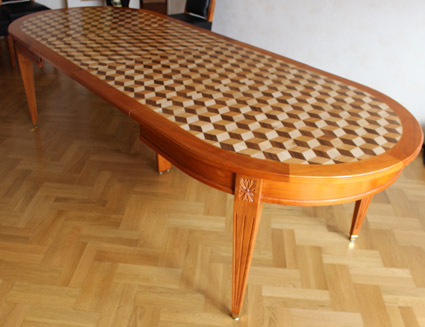 Louis XVI style table in cherry wood,
the top is decorated with a diamond pattern
made of 3 different types of wood, such as sycamore, cherry, and walnut.
It has 3 extensions, including one double-sided.
This one has a marquetry front and a back with a carpet for games.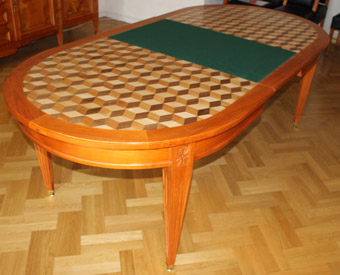 This is actually a versatile table;
the top can be reversed to make it a card table or for other games.
Marquetry bedroom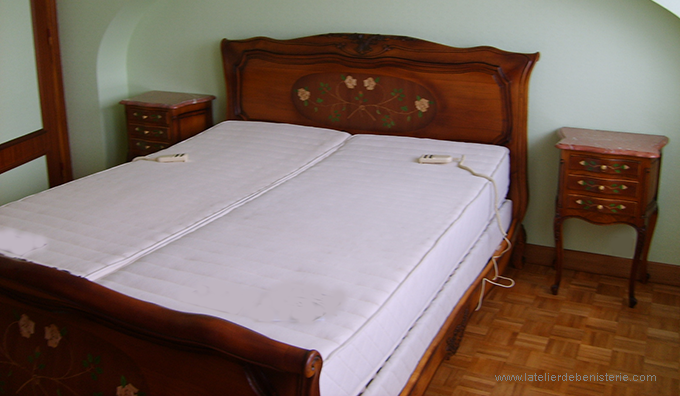 Louis XV style bedroom in cherry wood.
The headboard and the front face are embellished with moldings
with a large marquetry pattern of roses.
The mattress is motorized and has a remote control for each side.
Bookcase contemporary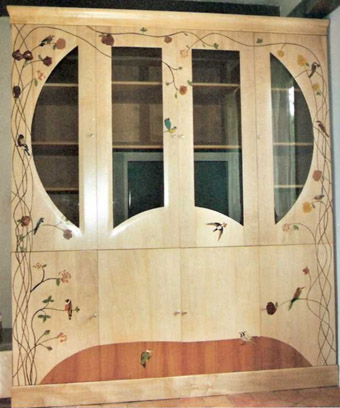 Bookcase with contemporary marquetry in sycamore,
with 8 doors and decorated with marquetry roses and regional birds.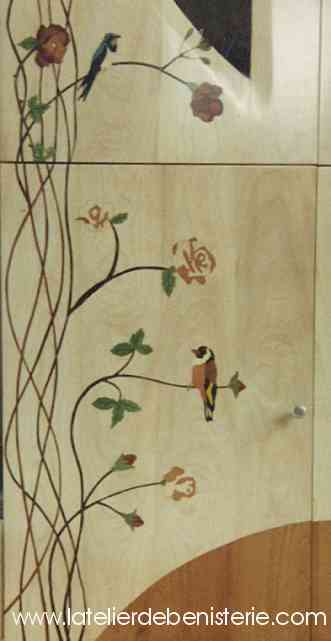 Finest marquetry for bespoke furniture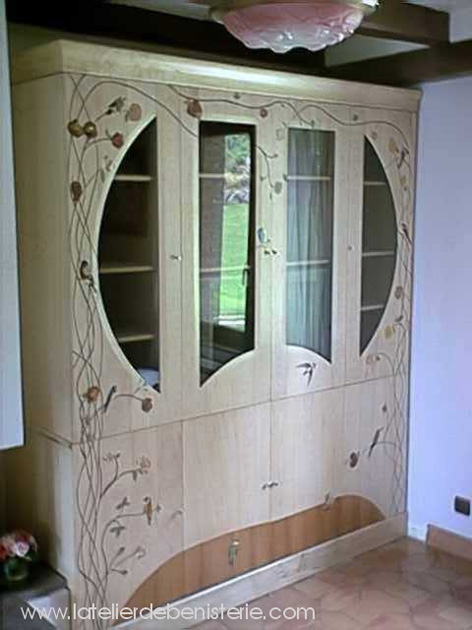 A blend of modern furniture and contemporary marquetry.
Removable table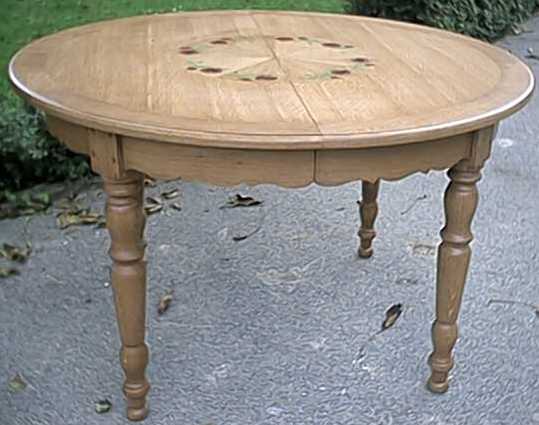 The table is solid oak, with flowers in marquetry,
the removable part allows transforming the table into an oval or round version,
to fit the number of guests.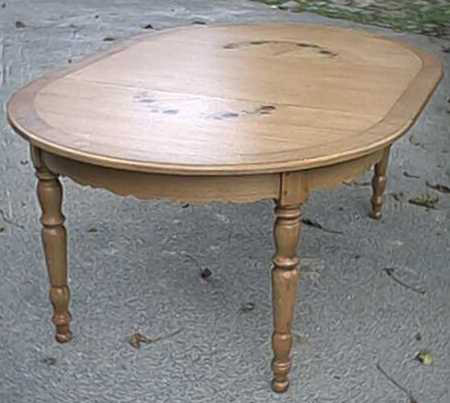 Wardrobe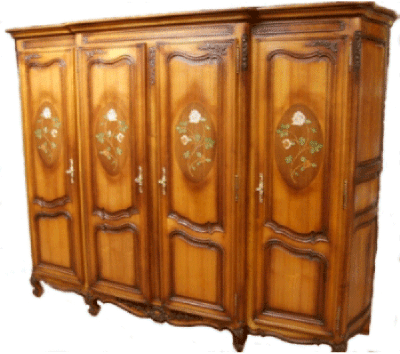 Louis XV style cabinet, in cherry wood,
decorated with moldings, sculptures, and medallions in marquetry.
A rose carried out in marquetry is inserted on each door top panel.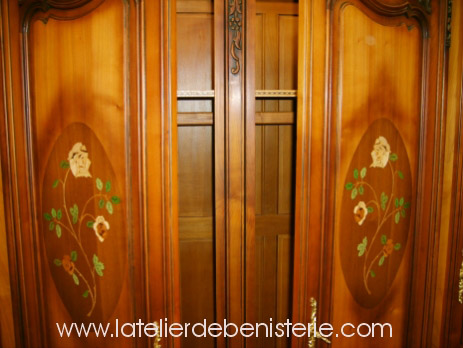 Marquetry developed in France in the 16th century but was first created in Egypt. The work consists of applying a decor with veneers. The patterns are inspired by classical themes such as animals, nature, and scenery, with some geometric shapes. Marquetry can be applied to designer furniture and all shapes could be considered.