Home > Marquetry furniture
Marquetry furniture
Chest of drawers in cherry wood, Transitional style, 3 drawers,
Marquetry with bouquet of flowers in front,
And mosaic of cubes at the bottom and sides.
marble top, bronze ornamentation.This achievement represents 150 hours of work.
Buffet, style Louis 16, cherry wood,
With a marquetry top, damier pattern,
4 doors, 4 drawers, ornamentation in bronze and brass.
Marquetry table with lozenges, Louis XVI style, cherry wood
2 extensions and 1 double-sided extension: parquet and back with a carpet for the game.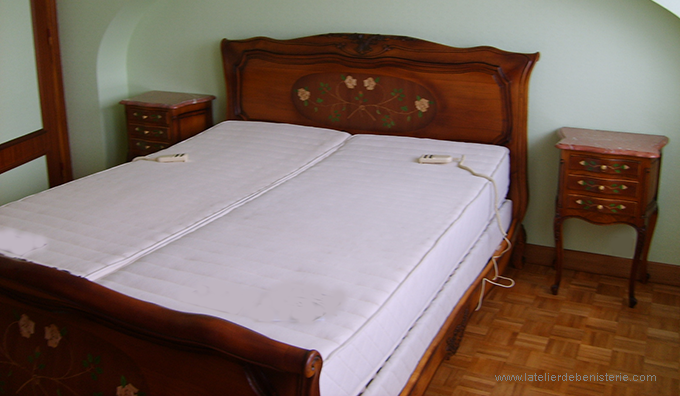 French marquetry bedroom, french style Louis 15
with motorized mattress
The marquetry was developed in France in the 16th century but it was created in Egypt at the origin.
The work is to manufacture and apply a decoration with various veneers.
The patterns are inspired by the classic themes but the geometric shapes are now trend. 
All patterns and shapes are possible. The marquetry is also applied on the Design furniture